Check-In/Check-Out
Check in time is 1:00 pm. Check out time is 12:00 noon. Late check outs require management approval and additional charges may apply.
Fires
Fires are permitted in the fire rings only. Please do not leave trash in the fire pit. Dispose of all trash properly in the dumpster.
Golf
Northern Michigan University owns and operates an 18 hole golf course that is located adjacent to the Chocolay River RV & Campgrounds. NMU's golf course is well known for its naturally northern location just off the beautiful shores of Lake Superior. The total measurement of the par 72 course is more than 6,800 yards. The picturesque, championship-designed course contains water hazards, rolling terrain and beautiful wooded areas. The course also offers many amenities including power and pull carts, club rentals, a golf shop and driving range.
NMU offers a 25% discount on green feeds for all campground guests. Please see the campground management to obtain a coupon.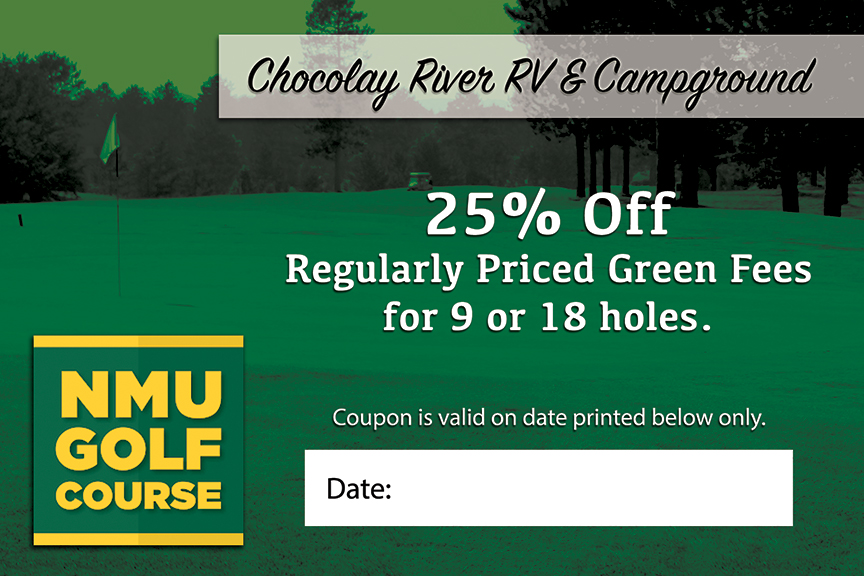 Other Vehicles
Motorcycles, golf cart and off road motorized vehicles are permitted to be used to and from the campground, bu joy riding within the campground is not permitted. Please be considerate of other campers when riding in the campground and observe the speed limit at all times. Racing inside the park is not permitted.
Pets
Chocolay River is pet friendly and we welcome out guests who enjoy traveling and sharing their camping experience with the family dog or cat. However to insure all of our guests have a safe and enjoyable time, it is important that you read and abide by the following pet rules:
Aggressive dogs of any breed are not welcome. If your dog shows behavior that is protective and unfriendly to strangers, please leave it home. If you decide to bring your dog and it exhibits this type of behavior campground management will ask you to please find other camping accommodations.
All dogs are required to be under control and visual observation of their owners as all times. A 6' (six foot) leash rule is in effect whenever the animal is outside the owner's RV or tent. No dog should be tied up and unattended outside the owner's camping equipment.
Allowing your pet to bark uncontrollably day or night will not be permitted and you may be asked to leave if you are not able to control your pet's barking behavior.
Please clean up after your pets.
Pets are not allowed in any buildings.
A maximum of two pets are permitted per campsite.
The campground is not liable for any issues arising from aggressive pets.
Quiet Hours
Quiet hours are from 10:00 pm until 8:00 am.
Reservations, Deposit, Cancellations and Refunds
A credit card deposit equal to your first night stay is required and will be charged at time of reservation. If you are unable to honor your reservation, please call and cancel 48 hours in advance. Reservations cancelled more than 48 hours in advance of arrival will receive a full refund minus a $10.00 cancellation fee. Cancellations less than 48 hours in advance of arrival will result in a one night charge.
Smoking
There is no smoking allowed in any building, including the restrooms, showers, laundry room, and the check in building.
Speed Limit
The campground speed limit is 10 mph at all times.
Tents
Tent sites may have a maximum of two tents per site. The only exception would be a screen tent or a pop up tent for additional storage.
Trash
Please keep your site clean and place all trash in the large dumpster near the check in building.
Visitors
Visitors are welcome during non-quiet hours. A maximum of six visitors per site are permitted at any time.
Washing of Vehicles
Washing campers and cars on any campsite is prohibited.